Cooked Mutton

Vital statistics

Type
Food
Effects
Unknown
Source
Sheep
Cost to buy
Unknown
Cost to sell
Unknown
Cooked Mutton
is an item of food in
Season 1
of
The Haunted
.
Overview
Edit
Cooked Mutton is a food item made from cooking raw mutton in a furnace, and has been used often in the Haunted series. Another version which has been seen is Jerky Mutton.
Cooked Mutton appears to be a favourite source of food for
Grayson
, as he has been seen carrying many pieces of mutton, which were mostly eaten by himself and
Drake
. Also, very few
sheep have
actually been seen in the area around
Grayson's home
, suggesting that they were killed for food. Day old mutton is not very good according to Grayson.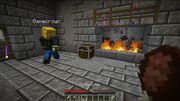 Ad blocker interference detected!
Wikia is a free-to-use site that makes money from advertising. We have a modified experience for viewers using ad blockers

Wikia is not accessible if you've made further modifications. Remove the custom ad blocker rule(s) and the page will load as expected.