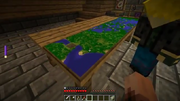 A library supposedly full of magical information.
Drake
and
Grayson believe
this may include information on how to hatch Grayson's
dragon egg
, as well as some information about diamonds, such as how exactly
the Sacred Diamonds work
. After saving
Armen
, the Magical Library is the most important thing in Drake and Grayson's quest. However, during their quest to save Armen, they did go to the Magic Library to find Armenbrine there with the three Sacred Diamonds. After one of the diamonds were destroyed, the library, which was built on a volcano, erupted and released all of its magic to the world, warping anything in its path and causing crazy things like resurrection and forming islands.
Ad blocker interference detected!
Wikia is a free-to-use site that makes money from advertising. We have a modified experience for viewers using ad blockers

Wikia is not accessible if you've made further modifications. Remove the custom ad blocker rule(s) and the page will load as expected.